Obama cuts coal, a U.S.A. heatwave, and hybrid cars are on the rise
MAP OF THE DAY
Maxim Heat Index Forecast For Thursday, July 4, 2013-Tracked on July 1, 2013 by the National Weather Service.
GRAPH OF THE DAY I
Private and Social Costs of Electricity Generation by Source. The Hamilton Project. May 18, 2011.
GRAPH OF THE DAY II
Monthly U.S. Coal Exports: January 1980-March 2013. EIA. Published in Free Republic.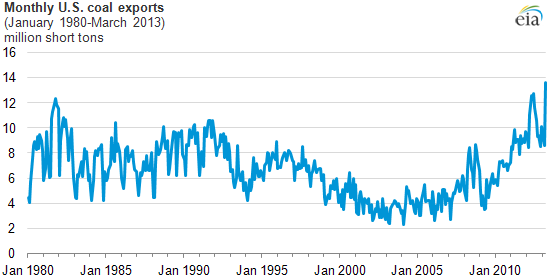 INTERACTIVE OF THE DAY
The Ins and Outs of Fracking. The Sacramento Bee. June 30, 2013.
An interactive graphic of the fracking process that shows how oil and gas that are inaccessible by conventional drilling are now being extracted.
THE LOWDOWN
The reactions to President Obama's climate speech continue to trickle in from different media outlets:
The Economist uses "uncertain" to characterize the Clean Air Act's capacity to carry the regulatory load and the President's ability to achieve any of his goals before he leaves office. The Toronto Star describes the references in the speech to the Keystone XL Pipeline as "deliberately opaque." Bloomberg maintains the speech's fine print imposes a "strategy" on the natural gas industry to control methane leaks. The Boston Globe reports that Protestant churches across New England are calling for a divestment from fossil fuel. And, the Washington Post maintains opponents of fracking are disappointed by the President's embrace of natural gas as a key component of America's clean energy future.
Policy experts agree the centerpiece of President Obama's climate agenda revolves around reducing the amount of CO2 emitted by the nation's coal fired power plants. Reacting to the speech, the Merc urges a robust war on coal. Matt Yglesias reviews the social costs of coal and wants an aggressive and a robust war on coal. Dave Roberts withholds his approval of the President's efforts until coal leasing and coal exports are curtailed and the EPA's regulations for old and new power plants have teeth to cut coal's dirty emissions. Brad Plumer considers the President's promise to restrict U.S. financing for new coal plants overseas a bright spot. But, Joe Manchin (D-WV) calls the President's directives on coal "a war on America." Luckily, the President has DOE Secretary Moniz on his side. Still, coal exports continue to climb. READ»
Californians reacted positively to President Obama's climate change speech. But, HispanicBusiness.com compared the President's agenda with passed and pending legislation in California and found California's energy policies more ambitious. Two recent actions backup the blog's claim: SB 43 is a trailblazing pilot program for shared renewable energy; and the Clean L.A. Solar Program is the largest urban solar rooftop program in the country. Not to be outdone by the public sector, MidAmerican, a unit of Berkshire Hathaway, announced it sold $1Billion in bonds to build the 579MW Solar Star I and 2 Projects in Southern California. And, while taxes on gasoline increased by 3.5 cents per gallon, San Jose added 38 electric vehicles to its municipal fleet and the first 5 of 25 new electric buses will soon be picking up passengers in L.A.
Electric vehicles accounted for 0.3% of total U.S. auto sales last year; but a poll from Harris Interactive reveals anticipated growth in the sector. Praise for the green design of the Tesla Model S has fanned popular interest in EVs and mollified some of the public's range anxiety. At the same time, Volvo is conducting a series of experiments that could render the car battery obsolete. The pros and cons of purchasing an EV can be found here and here. Ironically, all this innovation comes at a time when Americans' love affair with the automobile may be waning. And, as the paradigm shift takes hold, Ray LaHood presents his vision of the U.S.'s transportation future. READ»
122° in Palm Springs. 129° in Death Valley. 107° in Sacramento. 109° in Marysville. 106° in Stockton. National Geographic talks to Harvard climatologist Martin Tingley to see if he can answer the question that's on everyone's mind: What's behind the heat wave hammering the West Coast? READ»
QUOTES OF THE DAY
"Twelve years." The length of time outgoing Secretary of Transportation Ray LaHood believes it will take for the vast majority of the United States to transition to driving hybrid or electric cars, quoted in The Atlantic Wire.
"I think that means something more fundamental is going on." Michael Sivak, research professor at the University of Michigan's Transportation Research Institute speaking on the change in America's driving habits, quoted in the NYT.
"…if there was ever a time to worry, this would be it." A civic and emergency official from the Southwest commenting on the dangers posed by the oppressive heat that is plaguing the region, quoted by CNN.
"California benefits enormously from having the federal government step up with a climate program. It can only enhance our activities if we have a strong federal partner." ARB Chairwoman, Mary Nichols expressing her positive reaction to President Obama's climate speech.
"Today, I'm calling for an end to public financing for new coal plants overseas unless they deploy carbon-capture technologies, or there's no other viable way for the poorest countries to generate electricity." President Obama in his speech on climate change given at Georgetown University on June 25, 2013, quoted in the Washington Post.
REACTIONS TO PRESIDENT OBAMA's CLIMATE SPEECH
What Barack Obama's climate-change strategy means for Canada
Methane Scrutiny in Obama Climate Plan May Cost Drillers
More churches calling for divestment from fossil fuel
Obama climate change speech rejected key arguments made by critics of fracking
COAL
Obama Outlines Ambitious Plan to Cut Greenhouse Gases
Obama launching a war on coal? We can only hope
The biggest oversight in Obama's climate plan is a doozy
The two things we learned about Obama's plans to regulate coal
The U.S. will stop financing coal plants abroad. That's a huge shift
Senator: Obama's Action On Climate Change Is A 'War On America'
Mining lobby: 'War on coal' never resonated
Obama's energy chief rebuts 'war on coal' claim
U.S. coal exports set monthly record
CALIFORNIA
Federal Climate Change Agenda Resonates With Californians
Obama's Climate-change Plan Lags California's
Clean Energy For All: California Advances Pioneering Shared Renewables Bill
L.A. launches nation's largest solar rooftop program
MidAmerican sells $1 billion in notes for California solar farm
California's gasoline tax to jump nearly 10 percent on July 1
San Jose gets closer to Green Vision goal with 38 electric cars
LA Metro to purchase first fleet of all-electric buses
TRANSPORTATION
Poll: Americans Warm Up Slightly To Pure Electric Cars
2013 Tesla Model S Performance
Tesla charging network quells range anxiety
Volvo's Electric Road Could Power Future Generations Of Green Vehicles
Going electric—The pros and cons of battery electric cars
Are electric cars really cheaper than gas cars?
Is General Motors (GM) Years Away from Profits in the Electric Cars Industry?
The Future According to Ray LaHood: High-Speed Rail, But Also Tons of Hybrid and Electric Vehicles
WEST COAST HEAT
Southwest bakes in 115 to 120-degree heat
What's Behind the Heat Wave: Climate Change or Weather?
Join the Conversation